Okay, everything packed and strapped in, got my wallet, got my phone, earplugs in, bike started. Ooh, I should take a departure photo.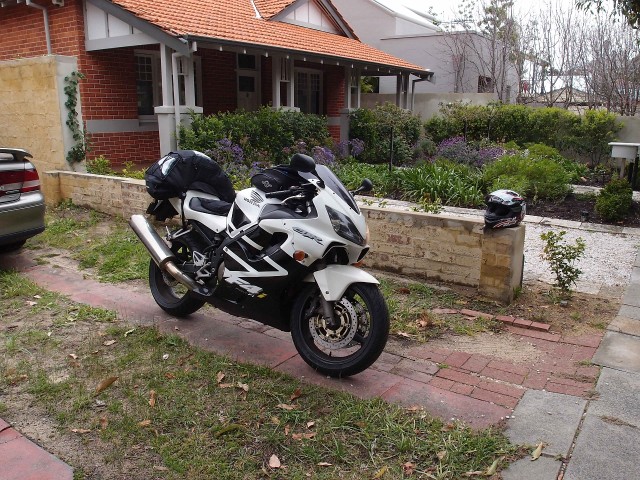 I'm already leaving later than I'd hoped, but that's always the way. Anyhow, today it couldn't be helped. Right. Lid on, leg over, lean the bike off the sidestand, whoop, little too far, back we come… baaack…BAAAAACK… ooh crap, abandon ship. And with a muffled thump, the bike goes face down into the driveway. Exhale deeply. Miraculously the indicator hasn't taken it's regular position as first point of contact with the ground, and the only thing that needs doing is brushing off some chunks of grass, adjusting the wing mirror and leaving some of my dignity behind. Ceremonial bike-drop complete, I stop a couple of kilometres up the road to top up with fuel at the BP, then I jump on the Freeway and start heading North.
It's overcast, but comfortable. Not bad for riding weather really. For some reason as I get North of Wanneroo I get Proud Mary stuck in my head, where it would continue to bang around for the next four or five hours. I ride past a sign suggesting I visit the Leaning Tower of Gingin, which sounded bizarre enough to investigate if I wasn't already trying to make up for lost time. After the better part of an hour I manage to free myself of civilisation and the road starts to open up into long, sweeping bends between endless rows of gum trees, and I start to feel relaxed. I feel like I'm on holiday.
Soon enough the trees turn into scrub and stay that way for the next hour or so as I take the new road up the coast. I'm still behind on time when I start getting close to Cervantes and the temperature has dropped a couple more degrees. I feel like I should keep moving to try and stay ahead of the storm (having no idea whatsoever which direction it's coming from of course), so I decide not to stop at the Pinnacles even before I start being harrassed by waves of sand being whipped up across the road and in and out of willy-willys.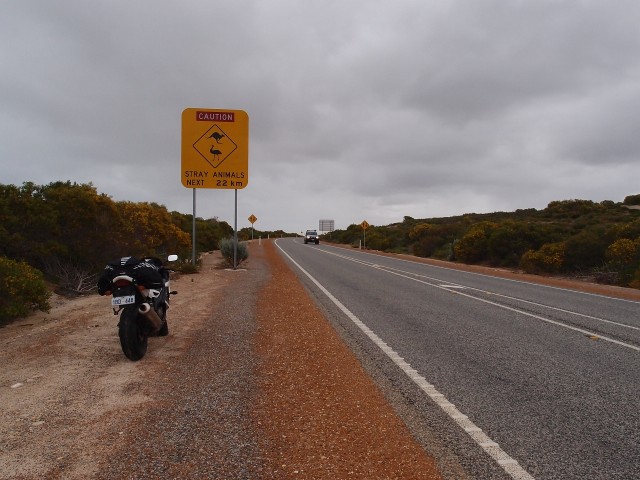 I fill up at Cervantes and get back on the road. Half an hour later and I'm riding past Leeman when I am struck by actual sunlight. It's bright, and warm, and sadly doesn't last long. Still, I continue to motor along at a gentle pace, that is until I start to see some disturbingly grey clouds to the West, and a blur of landscape below them. I speed up just a fraction and start to pay more attention to their approach. The horizon eeks closer and closer to me as the dunes and distant scrub to my left are slowly swallowed whole and disappear from view as the storm overwhelms them. I'm getting close to Dongara when there is only the width of a single paddock between me and the leading edge of the darkness. It becomes apparent at this time, as I lift up my bug-ridden visor to get a better look, that I am being stalked by what can only be described as a wall of water.
As I'm approaching Dongara (and shelther), the speed limit drops and so I slow down and resign myself to my squelchy fate. Two or three drops of rain appear on my visor, after which the bike and I are completely engulfed in cold water falling from the sky, and the smell of wet bitumen. Since I'm already wet, I don't bother stopping at Dongara and keep trundling on to Geraldton.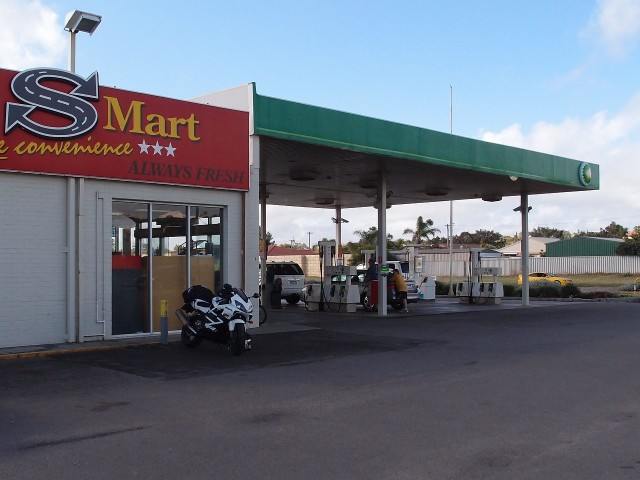 By the time I get there, the clouds have parted and there are patches of blue sky to be seen. I get some fuel and a snack and start moving again. As I get out of Geraldton, I am overjoyed to see hills ahead. There's little traffic heading this way and the road to Northampton sweeps up and down and side to side, and I remember why I wanted to ride my motorcycle on this trip. The scrub gives way to paddocks and pastoral land for a short while, after which the landscape changes back to thicker scrub which gives way to red dirt and spinifex. I get a little giddy when I see those horrid little spiky bushes. I haven't seen them since I was a kid, and it occurs to me that this is the furthest North I've ever been on my bike.
I'm fast running out of light by the time I grab some food at the roadhouse and turn off the highway onto the road heading to Denham, but I stop a few k's down the road at Hamelin Pool where I'm staying for the night. The owners and overnighters are all out on the porch with a drink when I pull up, and as the sheets hadn't yet been changed in the room I'd booked, I happily took up the offer of a bigger room in which I deposited all of my gear. You only have to step outside and look up at the sky to know how far from the city you are. Well there's that and the fact that neither of the two mobile phone carriers you're using have any signal. I'm delighted to find a gloriously hot shower in the bathrooms, and after setting an alarm for the morning I feel plenty tired enough to call it an early night. Tomorrow I'll actually have time to stop a bit more and take it all in, but so far things are looking pretty good. One day down, 41 to go.