Being less than 750 kilometres from home, and knowing that this means the number of riding hours between where we stood and a decent shower and a good night's sleep was down into single digits, the younger of my compatriots and I had arranged to prep up early and head towards home in a straight and boring direction with the intention of getting back in time for a late lunch. We said goodbye to our two accomplices on the way out of the hotel carpark, and then made a number of directional adjustments trying to get out of Esperance.
Once we were moving, the miles ticked over quickly. We slowed down to have a quick glimpse at the salt lakes, but otherwise we were making good time.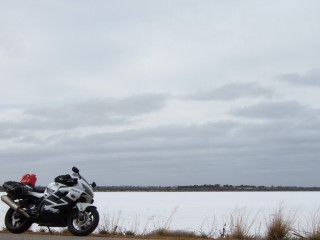 As we popped out the Western side of Collie, we ran into a dense cloud of hanging smoke. Workers were standing around in their high-visibility vests waving their lollipop signs instructing us to slow down, as there were burn-offs going on for most of the way down the hill. This made things more painfully slow than usual, since we were getting so close, and since the road downhill from Collie is such a nice bit of tar to travel along at pace.
As we reached the bottom of the hill and rolled up the highway junction, some manner of airborne carnivore attempted to burrow a hole through my neck with whatever kind of teeth, stingers or pincers these things get around with nowadays, but thankfully it gave up shortly after and left me with a relatively intact upper body and a lop-sidedly swollen neck. But putting aside my being devoured alive, I parted ways with my last remaining buddy as she headed towards her place and I headed towards my parents house to confirm to my Mother that I had indeed survived the trip.
While I was only about 180km from my starting point, I decided to stay the night at my folks' place to regale them with the more sanitary exploits of the last 2 weeks of my life, shower, eat, and sleep in well after the sun was up. I got a message from my friend shortly after I finished showering to let me know she'd made it home intact, and with my responsibilities complete, I promptly disposed of any conscious thought and made good friends with the nearest mattress.