If yesterday was a long and unenventful haul, today would be even more so. The plan was to get out of bed, get on the bikes and head due West until there was no more sun left to shine.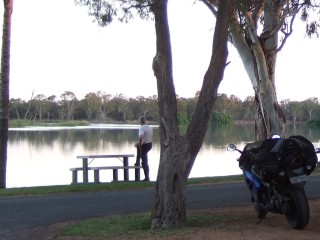 We get out of bed at the same time as the sun, and share the remains of the milk between four coffees in order to warm up for the first leg of the trip, planning to rustle up breakfast 200km down the road in Burra at a point in time where the bakery should be open and rational people should be getting out of bed. After loading up on coffee and baked goods, we gear up and keep hauling until we get to the familair sight of Port Augusta (or Pawdagudda if you're talking through a neck sock) and we stop for a fuel and toilet break. We're preparing to head off again when another police car comes to pay us some attention.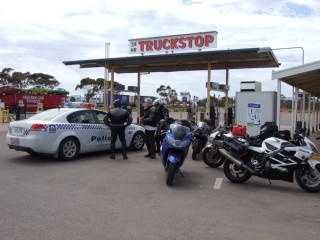 Apparently word has come through that there was a large outlaw motorcycle gang meeting happening out West, and the boys in blue were on their guard for packs of bikies. After establishing that we were in fact not Coffin Cheaters, the gents asked about our trip, started talking grand prix racing and realised that the driver and one of our cohort had both worked the grounds at the Phillip Island round some time last milennium. So after a jovial chat, we each went on our merry way. That was the last word we'd have with the law until we hit home.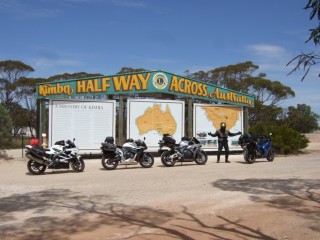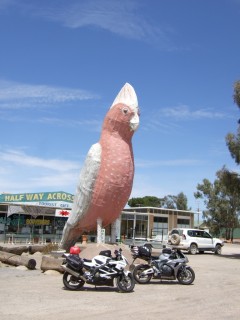 Back on the Eyre Highway, we chew up the miles, stopping in at Kimba on the way to Ceduna, where, after some convoluted phone calls, we are told by someone who was likely on another continent altogether that there was no room at the inn at Nundroo, where we'd planned to stay the night. Thankfully our next phone call confirmed that the next fuel stop along the route had space to spare, and so we toddled out of Ceduna towards the Nullarbor Roadhouse, doing so at a dawdling pace for several miles before coming to the conclusion that someone has stolen the speed limit signs for the highway, and thus, we hit the gas.
We fuel up briefly at Nundroo, where there appear to be three people staying at the lodgings, and take off again into the setting, and ever-more blinding sun. We reach our destination intact, in time to watch the sun set over the deserted horizon, and to meet the surliest roadhouse worker this side of the equator. He is, however, kindly enough to ferry our orders to the kitchenhand so that we might eat. A burger or so later and we're all tired enough to pass out in bed, which is convenient, what with the four of our beds all in the one room. Another day, another thousand kilometres.