After several trips up and down the stairs, my bike is again laden with the few mortal possessions I have with me. It's once again early, and most people in their right minds are still asleep, but for some curious reason the troops all drag themselves out of bed (and into pants no less) before coming out to see the Sandgropers head off West again. There is much shaking of hands, and the motel corridors hum with the sound of idling bikes.
We top up with fuel around the corner, then do our best to collect as many species of wildlife as possible on the visors of our helmets, although doing so entirely unconsciously.
In order to try and shave some time from the journey, we decide to head up and overland, which takes us into our fourth state for the trip.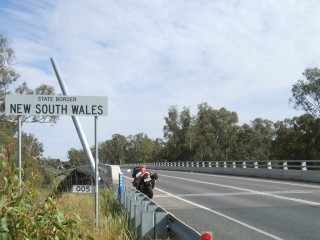 From there on in, the order of the day is mostly munching miles. Robyn and I swap bikes for a strech to ward off some of the boredom of the endless highways through dry, open paddocks.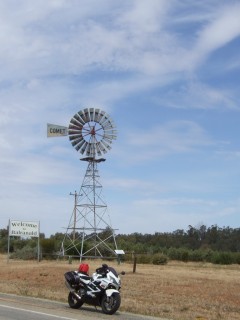 On the far side of Balranald, we continue cruising along the road, when a strange green sedan begins leapfrogging between us and squeezing into the gaps. I begin to consider what colourful moniker best describes such behaviour, when I notice in my mirrors a familiar number of aerials and attachments clinging to the car. I look over my shoulder to see for certain, and it seems we're being harassed by a couple of undercover police with not much else to do. They sweep around me and make their way to the foremost of the bikes, where they match speed and continue to drive on the wrong side of the road for some distance, before making a point of shooting off into the distance. I make a note not to drink the local water.
Two border crossings later and finding ourselves back in South Australia, we pull up outside the Renmark pub, which is our destination for the day, and decide after considering the swanky look of the place, that we might check out the caravan park instead, which turns out to be an excellent idea. We rent a cheap 3 bedroom unit for the night, only to pull up and find the site overlooking the Murray river as the sun sets over the treeline. The view is majestic.
After a nice stroll back to the pub for dinner some misunderstood-order antics, we turn in for the night. Tomorrow will be longer.