Morning comes, and with it the heavenly scent of bacon and egg rolls. While the barbeque is going in the background, some primitive urge sees a number of us huddle around the remains of last nights fire, although any trace of embers has long burnt out. The troops steadily trickle out of motel rooms in various states of disrepair, and we sadly bid goodbye to a few of our number who are bound to return to reality sooner than they would otherwise like.
We flesh out plans for the day over coffee and juice, and the four of us bound for WA the next morning decide to plot a shorter route and save our tender rumps from too much pounding. The gaggle of madmen take off before us, and we make our way out to Mt Beauty, before heading up some beautifully winding mountain roads to Falls Creek, and the snow.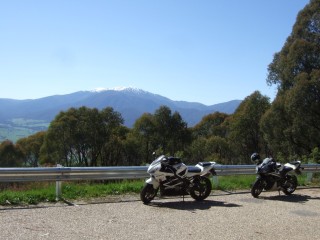 It's been 20 years since I'd last seen snow, which for a man of 27 years, is an awfully long time. Free of the gloves and loving concern that my parents sheltered me with the last time I saw snow, I get to touch snow with my bare hands for the first time (although it sounds more dramatic and touching than it is in real life).
While I may have all manner of gripes and grimaces for the state of the world, the sight of four fully-grown adults having a snowball fight in a deserted carpark is something that makes it impossible to resist the swell of joy that bubbles up inside me from time to time.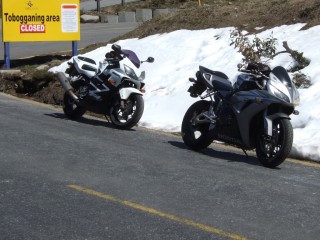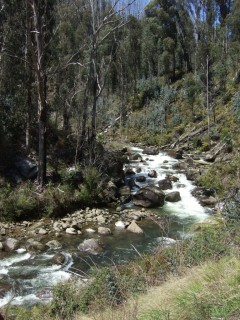 Having met the point where the roads are blocked from ice and snow, we turn around and head back downhill to Mt Beauty for lunch, followed by a leisurely trot back to Bright and a well deserved nanna nap. When the remaining nutters make their return, we all descend on the local pub for dinner, drinks, some pool, and the reckless abandon of vocal chords. I decide to call it a night before too late, but the rest of my comrades are not far behind, as the publican closes the bar (which I can only assume was in direct response to an alcohol fuelled rendition of Candy by Iggy Pop and Kate Pierson).
We all ignore the saddening fact that we will have to part ways in the morning, and retire for the night well in excess of any reasonable level of cheer.