The fans get up, and they get out of town.
This morning I discovered that I had vastly underestimated two important factors in my travel plans, firstly the amount of time required to get off the island (which takes longer than coming in, due to the mass exodus after race weekend) and the distance between Cowes and Pakenham (where I was supposed to be meeting another group of friends for a ride to Bright). I can only assume that at some point I had looked at a map of the area, felt that the little squiggly lines didn't look very long, and decided that I could get from the house to the meet point in 15 minutes or so, giving me time to get a coffee and a sit-down before we head off again. As it happens, the squiggly lines in this case were 85 kilometres long.
After riding for 20 minutes and having not yet seen one of my early landmarks, I do a roadside check of directions and discover my whoopsie. I arrived a mere 45 minutes after the planned departure time, where I found to my great surprise (and greater relief), that Dr Jones (who I ride with in WA) was also just arriving, and that Smythie (one of the locals) was hanging around waiting for just such stragglers as ourselves. Hallelujah. We headed further out of town to Healesville where we finally caught up with the rest of the crew. I get to see a few familiar faces, and put a lot of new ones to names that I have been hearing and reading for the past 6 years.
We all make our way off in a group, and head off towards the mountains. We arrive at the base of a road by the name of The Black Spur, and it blows my mind. Never in my life have I been on such a twisty road with such a gloriously smooth surface. I can only describe it as road riding bliss.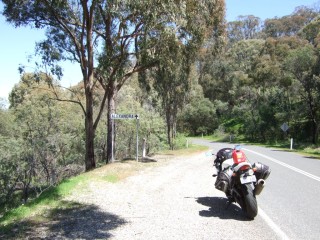 With a grin a mile wide, I follow the others through some more twisty roads out to Mansfield, where we stop for lunch and catch up with my three amigos from earler, and a couple of other locals. After I devour a monstrous chicken parmigiana (and the others eat their respective lunches), we head on out through the countryside to Bright. I haul my luggage to my room upstairs, unpack (read: throw the contents of my bags around the room), and we all sit around in the motel garden with plenty of drinks and a huge spread for dinner, then proceed to talk absolute rubbish for many, many hours.
Through the night I find myself, sitting quietly, just smiling.