Alarms go off and bodies roll out of bed at some Godforsaken hour of the cold, Victorian morning and the troops do their best to dress themselves and appear alert. We stop at the corner shop to grab coffee and bacon and egg rolls before once more parking the Camry in a paddock near the track and taking our place in line to wait for the gates to open. Time goes on and the line grows substantially behind us, until the gates eventually burst open and event staff standing on tables wave the mad crowds through without bothering to check for tickets. Once we are into the outfield, we shoulder our folding chairs and make a rush for the fence near MG corner, where our compatriots find us again and we stake out our prime viewing spot. From here we just need to wait another 8 hours for the race to start.
The wind is bitterly cold, and after an hour and a half I join the ridiculous queue for the coffee van. Another hour later, I have two arms full of coffee, and a deep sense of satisfaction.
The races are spectacular and the smiles can't be kept off our faces, even if this is partly due to being frozen in place.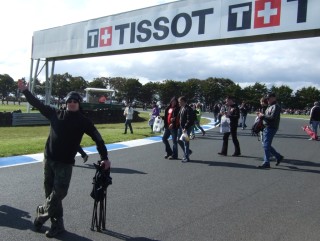 When all of the festivities that the MotoGP circus has to offer are over, we make our way back to the car, then slowly back to the house, where we bid our friend from Melbourne goodbye, and head into Cowes one last time for some celebrations. We watch a replay of the race on a giant screen in the street before finally catching yesterday's Birthday Boy for a couple of drinks, where we're soon joined by other Western Australian misfits and ring-ins. We get home later than I had planned, but in high spirits. I pack my gear up in order to make a hasty exit tomorrow morning, and curl up for a well earned rest.