I end up getting a bit more of a sleep-in than previously planned, due to my new housemates mistakenly interpreting my talking in my sleep as an indication that I'm awake and getting out of bed. Thankfully they cottoned on after not too long, and it was still early in the morning when I rolled out of bed, made short work of a coffee and some Weet-Bix, then piled into the car with the rest of the inhabitants to make our way to the track.
After parking the Camry deep in a muddy paddock at the direction of the marshalls, I'm delightfully surprised at how painless it is to collect my pre-booked tickets, and I stroll into the grounds. Roughly 8 seconds after coming through the gates, I make a beeline for the merchandise stand and lay down 15 bucks for a Grand Prix beanie, which turns out to be one of the finest investments of my adult life.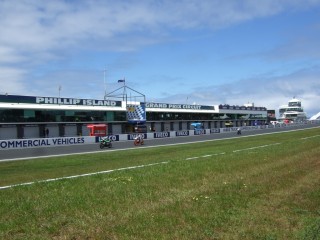 After the guys I'm with finish having their bags inspected and get into the track, we park ourselves on the fence at the end of the main straight just in time for the ear-splitting roar of the MotoGP bikes tearing past at an obscene rate. It is bliss. Shortly after that, it begins to rain, and I sucker myself into buying a poncho, having earlier talked myself into believing the weather forecast and leaving my waterproof jacket at home. As the day went on, I managed to run into more and more friends from back home and this side of the country, every one full of smiles. By the time we leave the track in the late afternoon, I've seen the track from every angle and am thankful to have avoided the fate of several other punters I have seen, who have going face first into one of the wide selection of available mud pits. Unwillingly I'm assuming.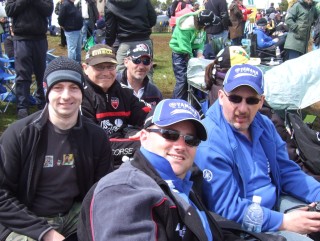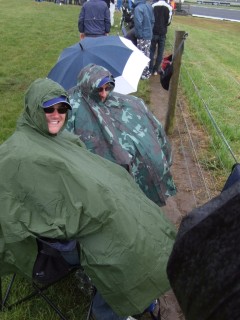 Another one of my friends from Melbourne turns up to the house after finishing work, and after making plans to meet a good friend of ours in town for his birthday, we all pile back into the Toyota and head into Cowes, which is still overflowing with bike riders, motorcycles and street-going folks enjoying themselves. We grab a bite to eat and have a couple of drinks and a yarn with some of the racers from WA before we find out via text message that the birthday boy has softed out on us and gone home to bed without even making it into town.
It's only a short ride home, and after a brief discussion on what constitutes a sane time to get to the track in the morning, I go to bed in the same place as last night for the first time this week.