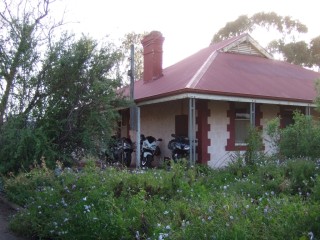 I look out the back door, and the sky is a gorgeous crystal blue. I chuck a couple of sugars into a black instant coffee and finish packing my life back into my panniers. As we head out of Murray Bridge, a few clouds start to appear on the horizon, and by the time we get 20 minutes down the road to Tailem Bend to stop for breakfast, the skies have opened and a deluge begun.
While we sit inside gnawing at gnawing at some breakfast toasties, and me downing the biggest coffee I could get my hands on, a coach full of knee-high squealing dance troopers descends on the roadhouse, a plague of little white and purple tracksuits with pigtails. The queue to the ladies toilet suddenly extends beyond the horizon. It's still raining outside, so we put on our wet gear, and as I sling my leg over my bike, a second coach load of hello kitty stormtroopers pull alongside. I am deeply thankful that I do not work here.
The rain comes and goes, but the bitterly, bitterly cold wind is a relatively constant tormentor until we arrive at Keith and regroup to discuss our plans. As we are scrapping the sections of road that are now likely to be liberally seasoned with ice and snow, the heavens take pity on us and we are granted sweet, merciful sunshine. For at least several minutes.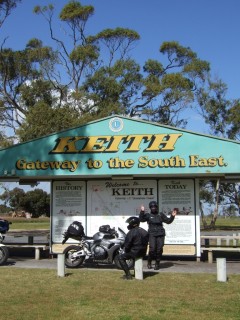 We start off again and make our way along the country back roads, eventually crossing the border into Victoria, at which point I am confronted with a broad selections of sign within the first couple of hundred metres. Victoria. Welcome to Victoria. 100. Speed cameras are used in this area. Driver Drugs tests are used in Victoria. In case of emergency tune to 594 AM. I start to wonder exactly how tuning my non-existent radio is going to assist me in the event that I get run over by a car or struck by lightning, but I've probably missed something subtle in the wording.
For hours the weather continues to be a spell of cold, dark, wind and rain. All of the four come and go, but not a moment goes by without of at least one of the curses hanging over us to ensure that the colour and warmth do not return to our extremities.
By the time it begins to hail on us mid-afternoon, I have already gone into a semi-maniacal state with a death grip on the 'bars, howling at the sky and challenging it to do its worst. Out of spite or pity, the weather relents and we catch the occasional glimpse of sunlight through the drizzle as we finally make it to Camperdown. We check into our "Tranquil & Romantic" accommodations, cranking the electric blankets and air-con up to boiling point before we make a mad dash down the street to procure some dinner without being rained upon.
It's been one of those days rides that I'd rather soon forget, but you have to take the good with the bad, and it's hard to be too begrudging when you finish up in a warm bed with a full stomach. There's breakfast in the fridge, real coffee on hand, and we've covered every surface in the place hanging our gear out to dry. Tomorrow will be better, but even the bad days are good.