So my blogging of late has been sporadic at best, non-existent at worst. The short version is that I've been tacklng unpleasant quantities of uni work and I start six weeks of prac on Monday together with having to get assignments done, so things probably won't get much better in the near future. Due to some administration screw-ups and my being forced into doing a double-major for my Dip Ed due to an earlier administrational screw-up, I'm now thoroughly overloaded and at the end of this year, I'll have done a 1.375 course load (where 1.0 is a normal complete years work) so if I look a little frazzled or unconscious when you see me next, save your surprise for something else.
Yesterday was pretty much my last day off that I'll have for quite some time, so I went for a day ride with some friends. So if it tickles your fancy, I give you… Thursday's Ride.
The Inaugural "Trev's Idea" 10hr Blacktop Enduro Special
A blow by blow report.
7:45am – 24.1km – BP SOUTH PERTH
Talk crap with Stuart and Craig while we wait for Warpie. Warpie turns up. Then we wait for Warpie to check his tyres. And fill up. And use the ATM.
8:35am – 55.2km – SHELL THOMAS ST.
Weather is almost perfect, cool, clear and fine. Meet up with Miles, Pete and Matt while Trev posts a letter and brings motorcyclists into general ill repute. We start off crack on 8:45 and take some back roads out to the South Western Highway, turning off at North Dandalup to do the Del Park Road.

9:35am – 121.1km – DWELLINGUP
Quick stop to check route before heading towards Quindanning so Trev can get some photos of the pretty flowers =P
10:00am – ???.?km – OUTSIDE OF DWELLINGUP
Coming around one of the hills, some smoke seems to be coming from out of the bush up the road. Not really bushfire weather though, doesn't smell of smoke either. Fog. I'm sitting behind Pete at this point and we back off the pace as visibility changes from a hundred yards to sweet bugger all as we go around each bend. We stop at the Quindanning turnoff to regroup, so I take a couple of quick shots of the F4i and the ZX6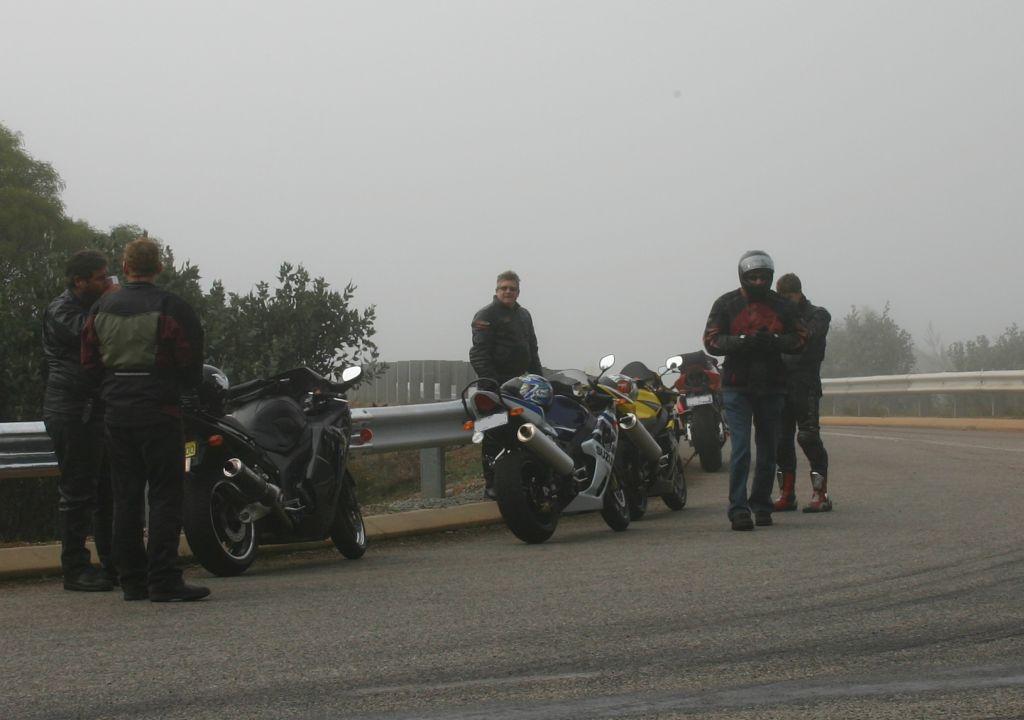 I'm telling you, there's a road there. No, seriously.
10:30am – 202.6km – QUINDANNING
Trev gets some spanky photos of the Superduke and Craig parks in front of the pub.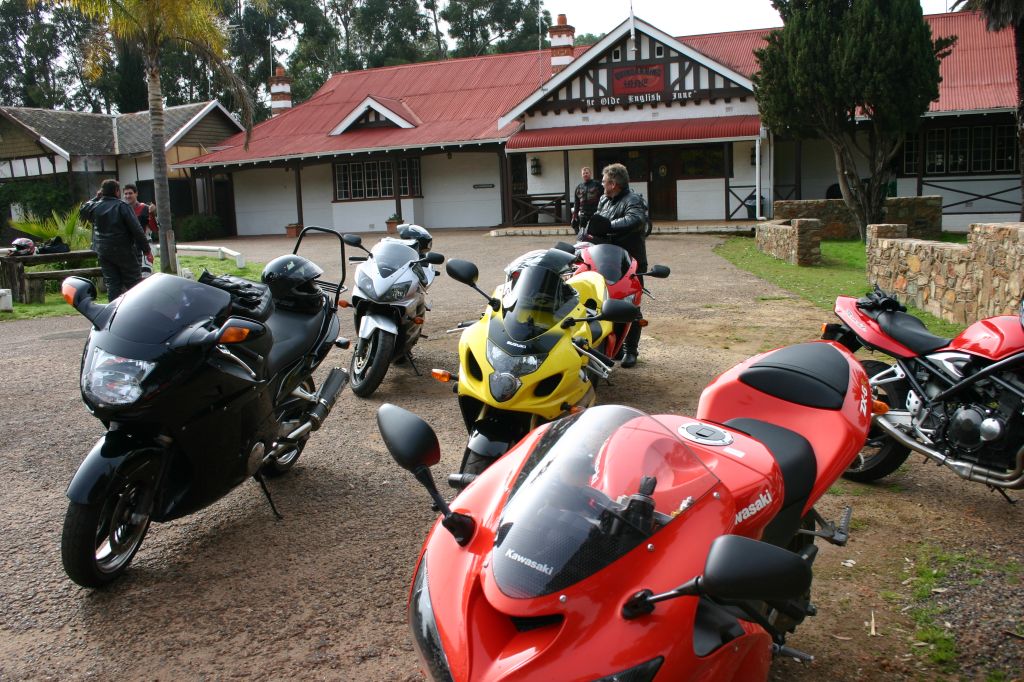 10:54am – 238.5km – WILLIAMS
Stop to get fuel, the reserve light on the KTM seems to be desperate for attention and is going off all over the place. Take a photo of Warpie's shiny exhaust.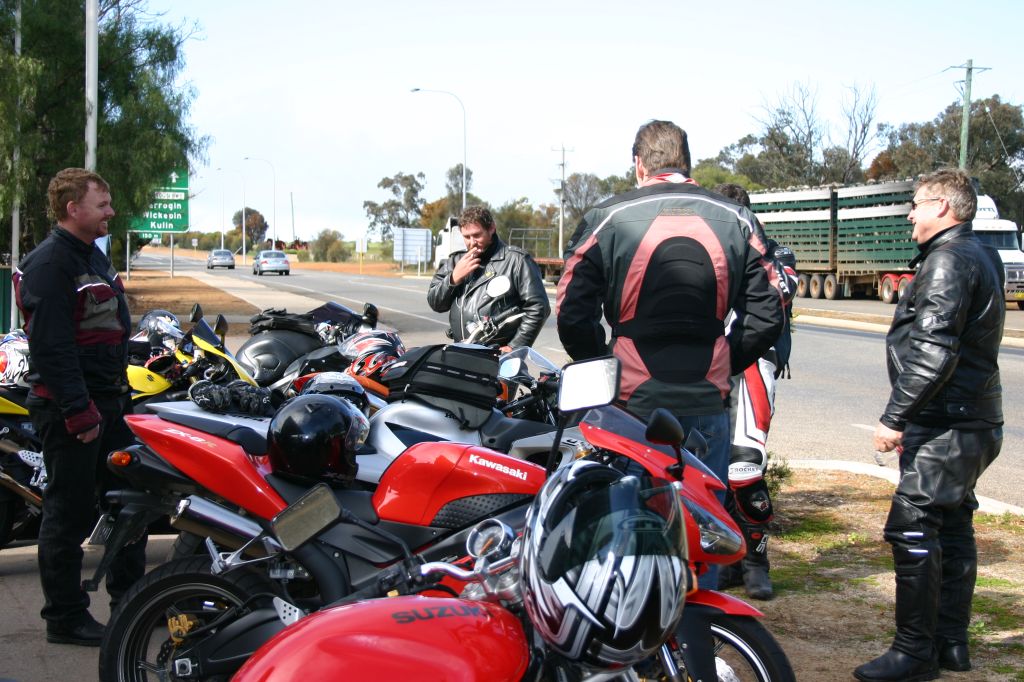 11:43am – 327.2km – COLLIE
Manage to use nine litres of fuel from Williams to Collie, a new personal record. Check tank for fuel leaks. We head off, stopping briefly near Balingup before doing a 40km loop of lovely twisties, complete with gravel traps and mutant road fungi.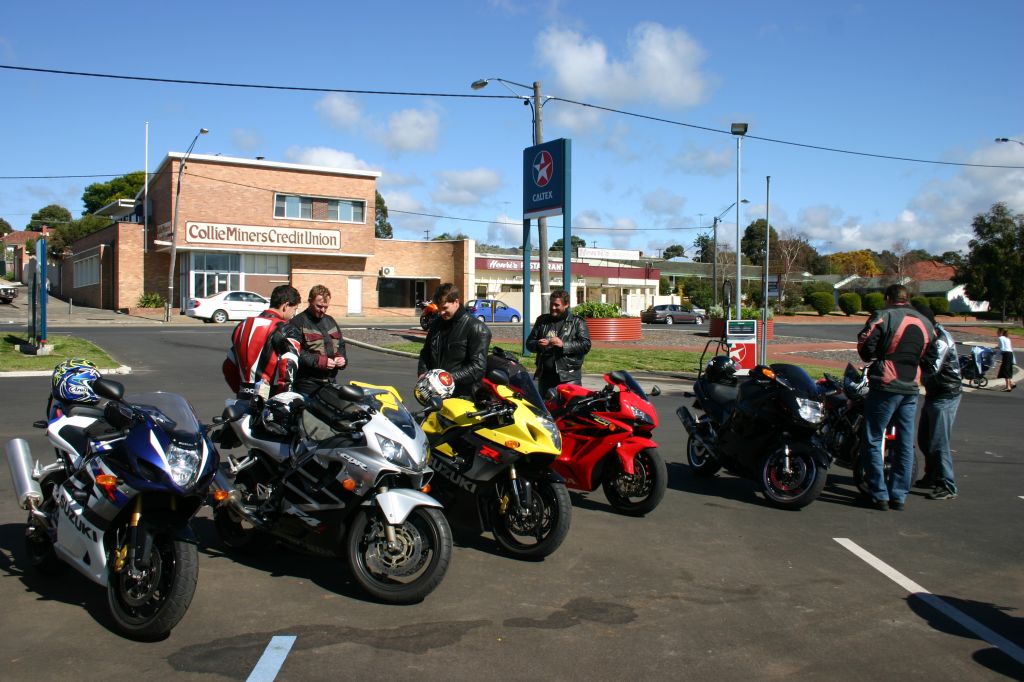 2:27pm – 451.9km – NANNUP
After stopping at the pub for lunch and having a yak while Pete calls us all pansies for not getting hammered, we fill up again and get ready to head off. Take a couple of photos including one of the sevenfiddy.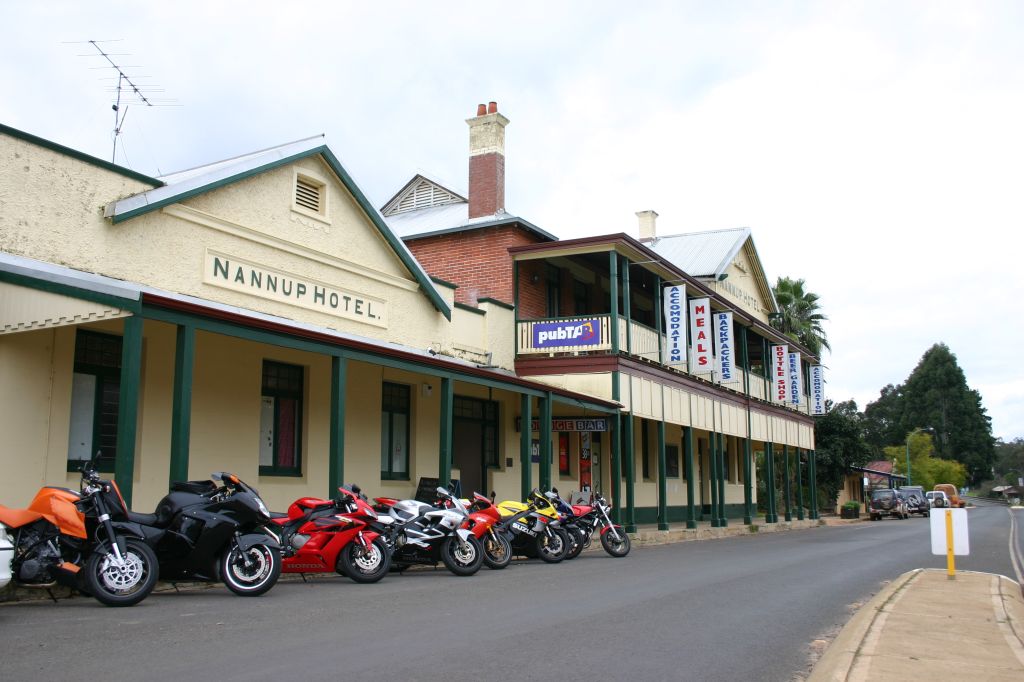 3:11pm – 530.3km – KARRIDALE
Stop to feed the KTM again. Meanwhile the F4i has ticked over 30,000km on the last leg, and the Big Bird took out the other bird when a parakeet and the CBX1100 attempted to occupy the same part of the space-time continuum.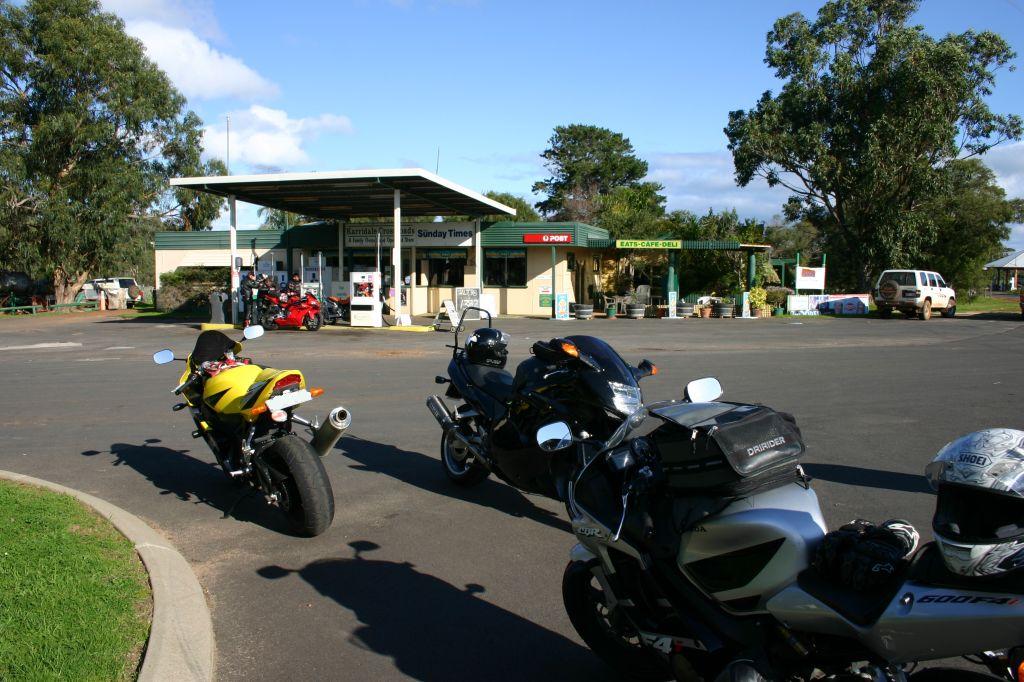 4:11pm – 597.7km – MARGARET RIVER
We hit Caves Rd and have a nice blat on the way through to Margaret River where we feed the bellies of the monster steeds again before getting out of town and starting to head back towards where we came from.
?:??pm – ???.?km – NOWHERE
On the way out of Margs we hit along the longest, straightest road I have come across in a long time. Tucking down as best I can on top of the tankbag and pinning the throttle to the stop, I reach a top speed of (as best I can estimate) Mach 90. We pull over to let Matt catch up on the naked 250.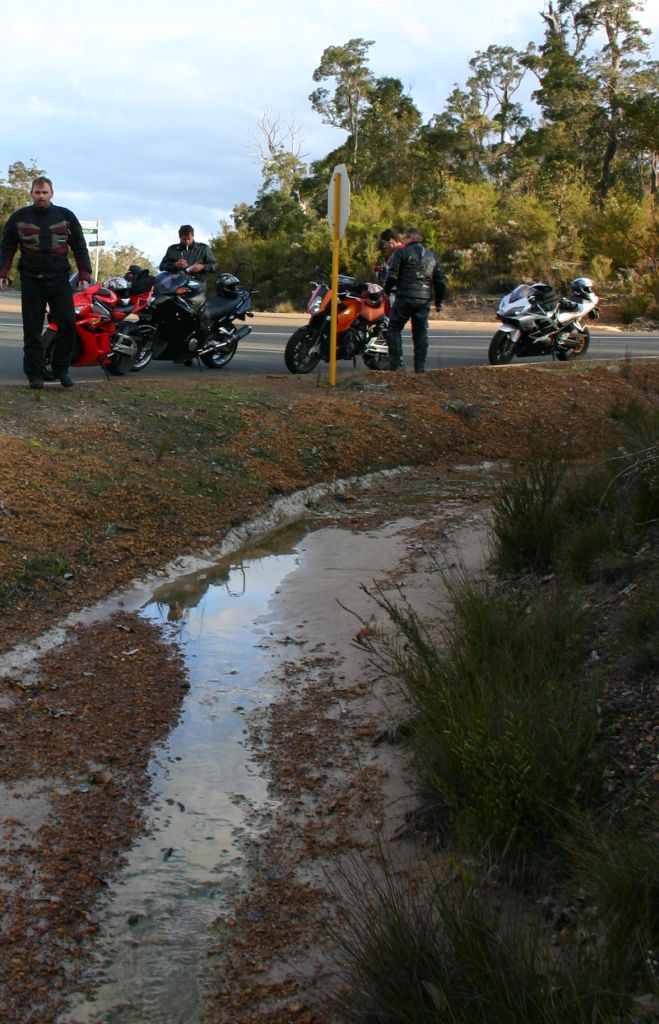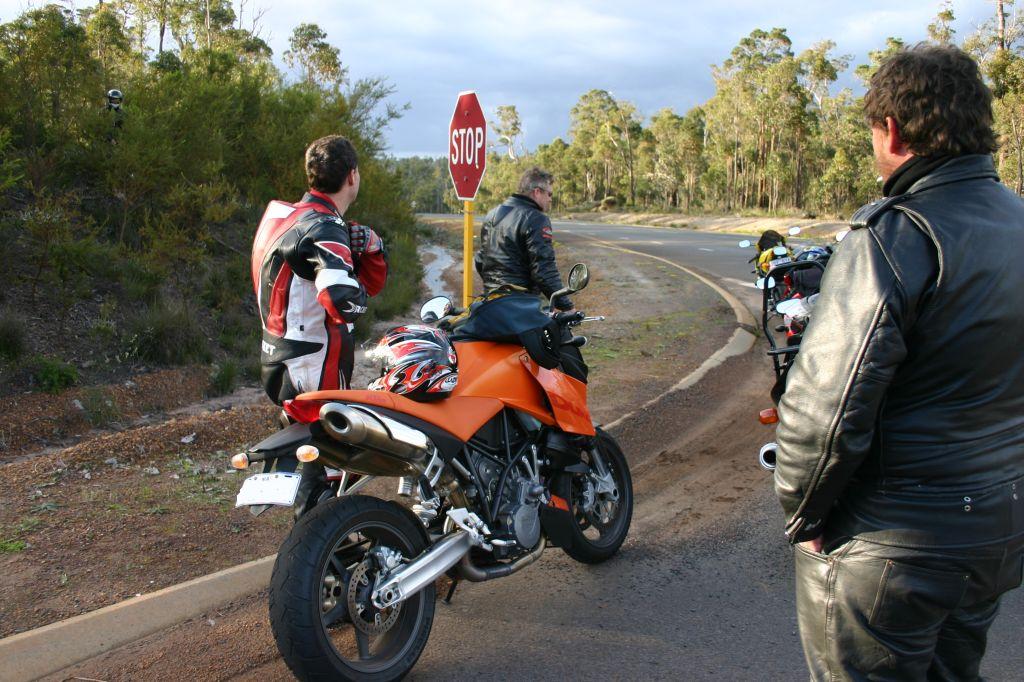 Where's Wally?
5:30pm-ish? – 734.0km – BRUNSWICK JUNCTION
After clipping through Capel and Bunbury, we pull in for our final scheduled fuel stop. We wait a while for Miles and Matt, but we seem to have lost them in the bypass of Bunbury. It's beginning to get dark.
?:??pm – ???.?km – PINJARRA
By this point we are guided completely by artificial light. It's dark, I'm cold, and I'm starting to wonder how Stuart is holding up with the tinted visor, considering I can see 3/10ths of sweet bugger all through the wildlife samples smeared on my visor since the last fuel stop. The bugs were no worse than usual during the day, but when the sun goes down, it gets ugly.
The stars come out and Stuart & Craig have pulled in at North Dandalup, presumably to do something about the eyesight situation, and we're also sans-Warpie to boot. Meanwhile I continue to chase the two quivering red lights from the back of Trev and Pete's bikes that I struggle to make out through the unwelcome haze of bug flesh.
We turn off the South Western Highway onto Mundijong before waiting at the tracks for a ghost train for several minutes. The suspense is too much for us, so I get off to stretch my legs while Trev and Pete take a sojourn away from the saddle to briefly commune with nature.
6:57pm – ???.?km – KWINANA FREEWAY
We finally get back to civilisation's most boring construction, where Trev and Pete peel off at the next exit. Ten minutes later, I finally see the city again. Entering the Graham Farmer tunnel, I see two idiot motorists narrowly avoid collision while fighting for the front position where two lanes merge. I am definitely back in Perth.
I fill up at the East Perth BP before rolling a few more k's home, finally arriving back at 7:40pm after leaving 7:30am this morning.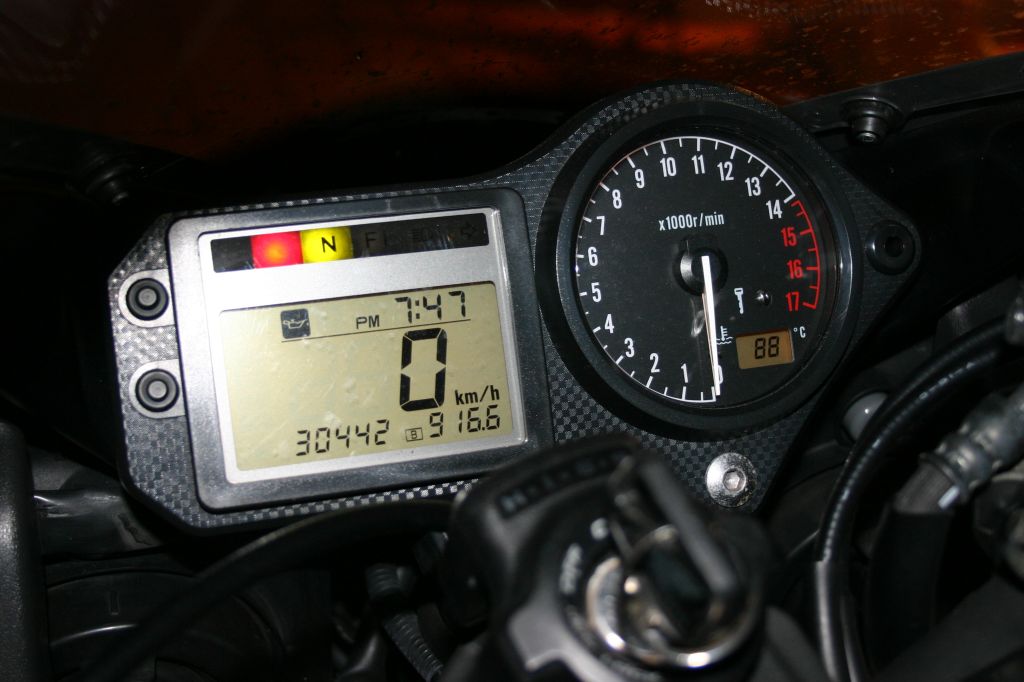 A decent day's ride.
Bugs.

Was a great day for riding.
In other news, because it rocked I saw Sin City twice. Fantastic Four was ok bordering on not bad. The Island was cool. Code 46, while not completely what I expected, I really quite liked. But I wouldn't spend money on seeing the Flight of the Phoenix remake if I were you.