I'm beginning to appreciate weekends more and more, there's only so much zing you've got left in the evenings once you get home from work. Last weekend was no exception.
So I got home on Friday and cranked up the air conditioner (oh thankyou god for the air conditioner) and started getting comfy. Turns out one of my roommates (No, sorry, not Glen) was going to be in the final of some bikini competition or other down in Fremantle that evening. So, I was dragged kicking and screaming* down to a club in Freo to suss this thing out. It was only after myself and my skinny-white-boy accomplice arrived that I was made aware of the fact that the exchange of currency was involved in letting me through the door. Yep, it's been a while since I've been clubbing alright. However there was one thing that I noticed straight away, or rather, didn't notice.
Once we'd travelled down a particularly cinematic long entry passage and down some stairs, we emerged into the void of the club and found the nearest bar. I'm looking around and I notice something. There's no smoke. Anywhere. I figure it's kinda weird, so I look about and don't see a single cigarette or ashtray, then I get told that this is a non-smoking club. The revelation shocks me, I can go home at the end of the night and my clothes and hair won't smell like someone vomited in an ashtray, let alone the endless entertainment provided by seeing the occasional person light up and then guessing how long it would take the bouncers to come and mug them to put it out. So we had a few drinks, hung around, I got to talk a bit to one of my friends boyfriends who I hadn't had much of a chance to speak to before, and he turned out to be a bit of a champ, very impressed (I didn't take him home though, I figured it might create a rift in the other friendship). I think there were also some scantily clad women parading around in the background somewhere, but I didn't notice*. Also, my new lid and gloves became token items in the flesh parade and are now famous.
Saturday saw me take to the shops again (after fruitless reconnaissance on Thursday night) to start hacking away at my Christmas shopping dilemma. The major dilemma being that I always tend to find more things that I could use than things I would like to give away, and it's a constant battle to constrain myself so I don't skimp on other gifts to afford new toys for myself. Damnable impregnated sense of generosity. Thankfully I managed to knock a few off the list, but I've still got a lot of work to do.
The following morning I got up at some ludicrous hour (at least for a Sunday) to kit up and go for the first serious ride I've done since I had my off back in July. First thing to do was to go meet up with my riding friend down the road before we headed off to Byford to meet the others. I knew he'd just bought a new bike, but when I rocked up to his place in East Perth, I was confronted with this: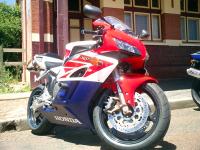 A Fireblade. The same bike which I had clashed horns with five months earlier, ending in an incident that left us both thinking we had seen better days. It was even the same colour. Creepy. Still, we rode off to Byford to meet up with the others, and after losing Warren when he took the wrong turnoff to Dwellingup (after which he figured we must be ahead of him and took off like a bat out of hell thinking he'd catch us up), we rode back to where we started to try and find the phone-less madman, only to find out half an hour later when we hit Dwellingup that he was almost an hour ahead of us (we discovered as much by phoning back a missed call and getting a tavern in Brunswick). So we called the Pub we planned to stop and told them to tie him down if he got there before us. A rather brisk strop South through Waroona, Harvey, Brunswick, Dardanup, Boyanup and Donnybrook later, we eventually made it up to Greenbushes a found Warren at the pub (already onto his third beer no less =P).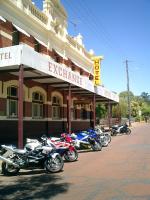 So we stopped for a drink, a bit of a snack and chiselled the dead bugs from our visors while we rested for a bit. The main street of the place was silent as the grave, very cool. The place was almost like a ghost town, I was outside taking photos when I heard someone pull up at a servo almost a k' away and you could hear the sound of the bowser pumping fuel just cutting through the air. All very cool. Once we'd freshened up, we got back in the saddle and rode off to Bridgetown and from there went down to Nannup. That leg of the journey alone made the trip worthwhile. The hills and the corners were absolutely blissful, the roads were clean and sealed and the corners just swept back and forth for miles on end, constantly changing in steepness and camber around the hills. Absolutely gorgeous. And that's to say nothing about the breathtaking scenery either.
We stopped at a few other towns out the back of nowhere to get fuel between the stretches, heading back North along another route before we stopped at Collie and from there, clocked straight up the South Western Highway to make it back home. Nine and a half hours, four full tanks of fuel and over seven hundred and forty k's later, my leather-clad ass was glad to see a comfy bed again. I took a few other photo's on the day that are over here. We had a great time and I got to find a lot of those back muscles I forgot were there. My body was even kind enough to let me make it to work alive the next morning after a 6am start.
This week has been more of the same at work, while my evenings have been relatively quiet. This weekend we have another reload coming up, so I'll be heading down to Bunbury. And while this weekend won't be as diverse as the last, I'm sure I'll find something to humour myself with.
* – may or may not be a complete fabrication designed to cloud the suggestion that I possibly still have hormones