So the play rocked out. Fun was had, entertainment was provided, shrubberies were mentioned and everyone left with the same number of appendages they came in with. And even though it delivers a completely lacklustre facsimile of what the event was actually like, I now have a DVD of the performance as well as a divx on a CD which hangs my PC every time I try to open it.
My job has become slightly more bearable as of Monday, seeing as how I am now contracted directly to a division of the Western Australian government and not through a recruitment agency. This means slightly more pay, half an hours less work each day and last but not least, I now get sick and holiday pay. Just in time for public holiday season, awww yeah. Half an hour a day might not seem like a big deal, but when it's half an hour less of watching the clock tick in the afternoon or half an hours more sleep in the morning, it's time well spent.
I recently had the cam chain tensioner (alternatively referred to by the technical term "thingy") replaced on my bike, which has been great. The old one wasn't going to cause any real damage, but it made a loud ticking noise between 5-6k rpm and sounded terrible. So now it's all smooth and zingy, I decided to go out to the Kwinana Motorplex with some friends on Wednesday and give it a bit of stick. I figured if I could run a decent 12, I'd come away satisfied for the evening. I ended up doing six quarter mile runs on my 600, getting better times as the night went on. My friend also took a V8 BMW 540 that he'd just bought out for a bit of a shot to see it'd go, and ended up running a 14.6, which is quite respectable for a car with creature comforts like a factory TV in the dash, and more interior leather than you'd find at a biker club. Of course it was outshined somewhat by a particular fellow who decided to mosey along in his new Audi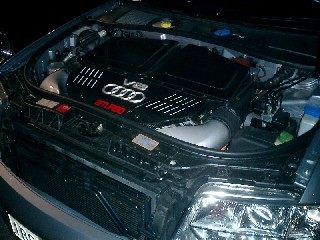 As for me, I started out the night by racing up against a lowered Hayabusa (which is one of the fastest bikes in a straight like ever conceived) who ran flat 10's all night. But back to the point of conversation; me. First ever quarter mile drag and I came out with a 13.199 at 167kph (104mph), which was OK, but I was expecting to improve, and aside from my fourth run which I fluffed the launch on (and the staff conveniently lost the timesheet for. It's OK, I won't miss it), the times consistently improved.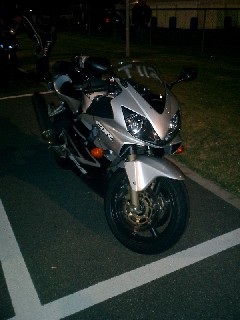 6:43pm – 13.199 @ 167kph (104mph)
7:17pm – 12.945 @ 174kph (108mph)
8:04pm – 12.624 @ 177kph (110mph)
(Run that disappeared into the ether)
9:37pm – 12.567 @ 183kph (114mph)
9:57pm – 12.143 @ 187kph (116mph)

I ended the night with a 12.1, so I was pretty happy, and it was good fun, which of course requires an obligatory picture of me looking goofy.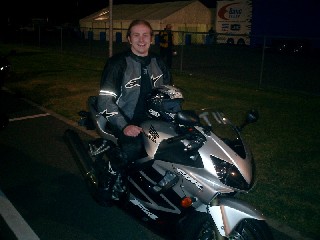 Zoom zoom.